Clinical Data
The Driver Stent has proven clinical efficacy both in registries and a randomized controlled trial.
Efficacy Demonstrated Both In Registries and a Randomized Controlled Trial
Confidence In Clinical Outcomes
Nearly 600 patients followed to 5 years1
More than 3400 patients studied2
1ENDEAVOR II, Driver control arm.
2More than 3400 patients studied includes:E II Driver arm (n=599), Driver registry (n=298), International Driver Registry (n=792), DRASTIC (n=805), DRASTIC II (n=600), Micro Driver registry (n = 135), CLASS study (n=202) .
Low TLR In Registries
Comprehensive Experience In Real-World Patients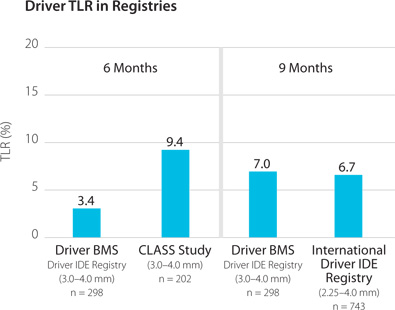 CLASS study 6-mo TLR. Driver Registry 9-mo TLR; International Driver Registry 9-mo TLR.
Durable Efficacy to 5 Years In Pivotal Trial
16.3% at 5 years, an increase of just over three percent from 13.1% four years earlier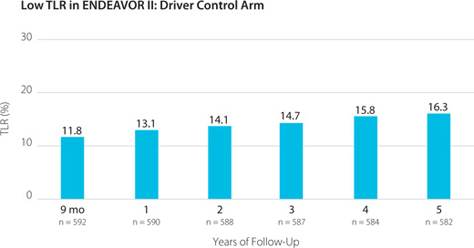 Years 1–5 TLR E II 5-year, Driver control arm.
Baseline Characteristics
ENDEAVOR II: Driver Control Arm

n = 599
Diameters (mm)
2.25–3.5
Primary endpoint
TVF at 9 mo
RVD (mm)
2.76
Lesion length (mm)
14.38
Pre-procedure MLD (mm)
0.84
Diabetes (%)
22.2
B2/C (%)
79.0