Enhanced Delivery System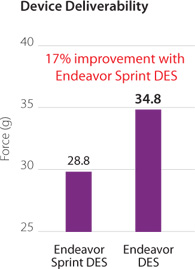 Less force required to track in tortuosity.*
The Endeavor Stent, Now More Deliverable.
Shorter 3-mm tip length
Low-profile system
More flexible material
Softer Fulcrum Balloon Material With Greater Flexibility
Enhanced Proximal Shaft With Increased Lubricity and Pushability
Surface coating increases lubricity
Stiffening wire improves transitioning of force
*Test conducted by measuring force required to track in a 3-dimensional tortuous model. Medtronic testing conducted with identical-sized Endeavor and Endeavor Sprint stent systems.