Powerful Clinical Performance
Resolute Integrity DES makes the complex simple by demonstrating powerful clinical performance in real-world patients and provides confidence in addressing the needs of your increasingly complex daily practice.1
Drug Delivery for Resolute Integrity Is Identical to Resolute DES
Identical stent dimensions
Identical drug dose
Identical drug elution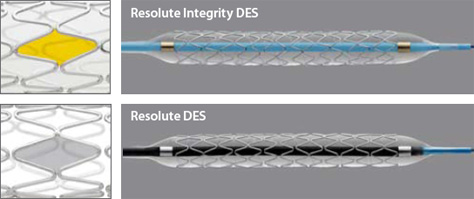 RESOLUTE All Comers Study Design
International multicentre DES clinical trial
1:1 randomisation of Resolute vs. Xience V DES
2300 all-comers patients reflecting real-world complexity
Compelling Results in Real-World Patients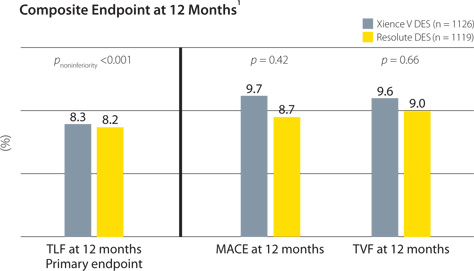 TLF= cardiac death, target vessel MI, clinically indicated TLR. Noninferiority p-value calculated based on a prespecified noninferiority margin of 3.5%. p-Values are based on Fisher's Exact Test. p-Values for outcome differences are unadjusted for multiple comparisons. RESOLUTE All Comers was not specifically designed or powered to individually compare MACE and TVF.
1Serruys PW et al. NEJM 2010.
Resolute Integrity DES now has expanded indications for diabetes mellitus, multivessel disease, long lesions and small vessels.